Pages

Wednesday, April 23, 2014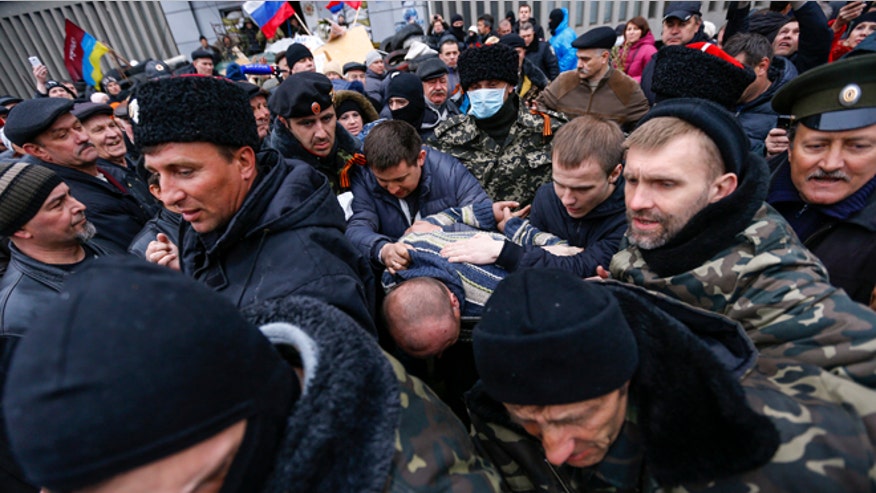 April 13, 2014: Pro-Russian protesters escort a man detained in eastern Ukraine.

REUTERS
FoxNews
WASHINGTON –

U.S. Army paratroopers are arriving in Poland to begin a series of military exercises in four countries across Eastern Europe to bolster allies in the wake of Russia's annexation of Ukraine's Crimean Peninsula last month.
Pentagon press secretary Rear Adm. John Kirby said Tuesday that the exercises will last about a month, and initially involve about 600 troops.
An Army company of about 150 soldiers from the 173rd Airborne Brigade Combat Team based in Vicenza, Italy, will start the exercises Wednesday in Poland. Additional Army companies will head to Estonia, Latvia and Lithuania and are expected to arrive by Monday for similar land-based exercises in those countries.
Under the current plan, U.S. troops would rotate in and out of the four countries for additional exercises on a recurring basis.
"We're looking at trying to keep this rotational presence persistent throughout the rest of this year," Kirby told reporters, adding that over time the exercises could expand to other countries.
The exercises are part of an effort announced last week by Defense Secretary Chuck Hagel aimed at reassuring NATO allies of America's commitment to the region's defense.
Kirby said the U.S. will likely plan other exercises and will continue to work through NATO on joint measures that could be scheduled in the future.
"It's a very tangible representation of our commitment to our security obligations in Europe, and the message is to the people of those countries and to the alliance that we do take it seriously. And we encourage our NATO partners to likewise look for opportunities of their own to do this same kind of thing for one another," said Kirby. "And I think if there's a message to Moscow, it is the same exact message — that we take our obligations very, very seriously on the continent of Europe."
Armed pro-Russia groups have occupied areas in eastern Ukraine and have refused to leave until the country's acting government resigns. There was a burst of violence Sunday, with three people killed during a shootout at a checkpoint manned by pro-Russian troops. The U.S. has asserted that some of the troops are Russian special operations forces, and officials are pressing Russian to abide by an international accord aimed at stemming the crisis in Ukraine.
Tuesday, April 22, 2014
The following excerpt from a Free Republic article in 2008 is still applicable today, but the situation has worsened since then:
"Why is it that every Democratic run city has the highest crime rates??
For example, Detroit, whose mayor has been indicted on felony charges, hasn't elected a Republican mayor since 1961. Buffalo has been even more stubborn. It started putting a Democrat in office back in 1954, and it hasn't stopped since.
Unfortunately, those two cities may be alone at the top of the poverty rate list, but they're not alone in their love for Democrats. Cincinnati, Ohio (third on the poverty rate list), hasn't had a Republican mayor since 1984. Cleveland, Ohio (fourth on the list), has been led by a Democrat since 1989. St. Louis, Missouri (sixth), hasn't had a Republican since 1949, Milwaukee, Wisconsin (eighth), since 1908, Philadelphia, Pennsylvania (ninth), since 1952 and Newark, New Jersey (10th), since 1907.
The only two cities in the top 10 that I didn't mention (Miami, Florida, and El Paso, Texas) haven't had Republicans in office either -- just Democrats, independents or nonpartisans.
Over the past 50 years, the eight cities listed above have had Republican leadership for a combined 36 years. The rest of the time -- a combined 364 years -- they've been led by Democrats.
Five of the 10 cities with the highest poverty rates (Detroit, Buffalo, St. Louis, Milwaukee, Philadelphia and Newark) have had a Democratic stranglehold since at least 1961: more than 45 years. Two of the cities (Milwaukee and Newark) have been electing Democrats since the first Model T rolled off the assembly line in 1908.
Two cities, 100 years, all Democrats.
If the definition of insanity is doing the same thing over and over again and expecting a different result, the asylums in those cities must be as full as the soup kitchens."
Mass Tea Party
I don't believe I ever have gone off topic as much as I am about to here, please forgive me while I take license to bloviate just a bit.
I was told recently on my Weeping Eagle facebook page (to which I hope you join me sometime) "enough of the Jesus posts", or something to that affect.
It's not that I post about Him often that should surprise anyone, it is that I ever stop posting about Him that should surprise people.
My faith in Christ is not some side show, but the centrality of who I am. After all, it is in Him that we live and move and have our being, (Acts 17:28) and unfathomably, to each Believer, the Holy Spirit comes to live within us (Ephesians 1:13). In other words, He is ALWAYS on my mind, in my heart, or in a melody that may be heard under my breath, that I therefore include stories of Him as a central topic should not be a surprise.
All of that said, the main thrust of this blog is really about Him, but in a way that is meant to be understood without necessarily being spoken. What I mean is that He may not be in the story Per Se, but He is nevertheless in the spaces between the words. His absence from stories is the main reason for the bad, the tragic, the sad, the horrific...or whatever a particular storyline might be. In other words, because we are largely a world that is rejecting Christ, the Prince of Peace, we have these stories of tragedies, these stories of terrorists, these stories of traitors these stories that should probably make us weep.
Years ago my son bought me a plaque that was displayed in my home for many years that read:
"Christ is the head of this house, The Unseen Guest at every meal, The Silent Listener to every conversation."
And so it is with this blog. If He is not mentioned in the story, He is within the spaces of each letter. There are of course times that I insert stories regarding faith for no other reason than that I believe, with all of the moroseness that is occurring in this world and that I often catalog here, some hope is desperately needed,and the Lord in His mercy certainly provides that to all who humbly ask.
Anyway, I've bloviated enough, here is another story, to the chagrin of someone somewhere, that is unequivocally and unapologetically about Christ; onto the riddle:
Cripplegate
Linda Lou Taylor only got married once…for love.
It was in 1957. Linda was sixteen and she married 31 year old George Scott, whom she loved deeply. The marriage lasted seven years, ending in a regrettable divorce. After that Linda gave up on the idea of marrying for love, and instead began to marry, it seems, for sport. She wed and divorced with a dizzying frequency.
She tied the slip-knot in rapid succession, collecting a string of ex-husbands form all walks of life, including a plumber, a preacher, a bartender, a musician. To add valuable rare items to her collection of erstwhile hubbies, she married a one-eyed convict, two homeless guys, and two gay men.
She creatively upped her matrimonial stats by "committing" to one fellow, Jack Gourly, on three separate occasions. Her shortest marriage lasted a mere 36 hours. It seems her goal was to immortalize her hubby-hobby with a dubious entry in the Guinness Book of World Records as the "most married woman."
She accomplished this notoriety by wedding Mr. Glynn Wolfe in her 23rd wedding. The marriage was unabashedly performed solely for the publicity of getting into Guinness. You may ask yourself, what kind of man would marry a woman just to help her get into a record book? Good question. The motive was hardly difficult to discern, as that wedding happened to secure for 87 year old Mr Wolfe his own record as "most married man," when Linda became his 29th bride.
He died a year later, and Linda, age 63, has been single for ten years now, but she told a journalist that she's on the prowl for husband #24.
Personally, I rankle at the recurring spectacle of those who degrade the sanctity of marriage with such reckless abandon. But it does remind me of another far-fetched story of serial marriages. One that was not trying to mock the sanctity of marriage, but rather to mock—of all things— the doctrine resurrection.
If a musical were to be composed from this account, it may be called A Severe Bride for Seven Brothers…
Luke 20:27 There came to him some Sadducees, those who deny that there is a resurrection, 28 and they asked him a question, saying, "Teacher, Moses wrote for us that if a man's brother dies, having a wife but no children, the man must take the widow and raise up offspring for his brother. 29 Now there were seven brothers. The first took a wife, and died without children. 30 And the second 31 and the third took her, and likewise all seven left no children and died. 32 Afterward the woman also died. 33 In the resurrection, therefore, whose wife will the woman be? For the seven had her as wife." 34 And Jesus said to them, "The sons of this age marry and are given in marriage, 35 but those who are considered worthy to attain to that age and to the resurrection from the dead neither marry nor are given in marriage, 36 for they cannot die anymore, because they are equal to angels and are sons of God, being sons of the resurrection. 37 But that the dead are raised, even Moses showed, in the passage about the bush, where he calls the Lord the God of Abraham and the God of Isaac and the God of Jacob. 38 Now he is not God of the dead, but of the living, for all live to him." 39 Then some of the scribes answered, "Teacher, you have spoken well." 40 For they no longer dared to ask him any question.
I guess you could also call this tragi-comedy Seven weddings and Eight Funerals.
This was a actually a good question for theological liberals to ask. They are referring to something Moses had written in Deut 25:5 "If brothers dwell together, and one of them dies and has no son, the wife of the dead man shall not be married outside the family to a stranger. Her husband's brother shall go in to her and take her as his wife and perform the duty of a husband's brother to her. 6 And the first son whom she bears shall succeed to the name of his dead brother, that his name may not be blotted out of Israel.
This was called 'levirate marriage' and it was how they ensured the promised land would remain with the family and clan with which it had allotted.
The liberal Sadducees were saying "We all agree that Deuteronomy, written by Moses, is the word of God. But if the resurrection is true, then the Scriptures teaches a scenario where you would have a women married to multiple men, polyandry," which all Jews abhorred.
This is a question they had no doubt posed to Pharisees in the past, without suitable answer, and they thought it was their best riddle for Jesus to stump him. It was like challenging Bobby Fischer to a game of speed-chess in the park.
And here we see typical hubris of unbelief. There are two ways of approaching mystery when you read the Bible. One is to approach by faith, assuming the Bible is breathed out by God, free of error, and perfectly accurate in historical, theological, and scientific details. And then seek to figure out how it fits together. E.g. The gospels tell us Judas hanged himself, Acts tells us he fell down a cliff. A believer assumes that he hanged himself on a tree at the side of a cliff, and when the branch broke he fell.
The other approach is to launch off a springboard of unbelief and then gleefully assume you have discovered a contradiction that proves your position.
As a Christian you don't need to get sucked into these types of debates. There is nothing wrong with admitting there are things hard to understand in the Bible (Peter confessed as much in 2 Pet 3:16
about Paul's epistles!), but that you trust God will do a decent job explaining it when you get to Heaven.
Here Jesus reveals in unprecedented detail that our family structure in Heaven is different from this life's. There is no marriage because there is no need for procreation and raising children.
Think about this, those of you who have lost children, or had a miscarriage…when you meet your child in heaven, they could well be "older" than you, in that they will have been in Heaven for years longer than you have been there. Your baby—who will no doubt have a mature body and mind in the resurrection, not an infant body—may show you around Heaven as they will be more familiar with the place than you, the new arrival.
We don't know exactly how all that works out, but from Jesus' answer we know this: the resurrection is real, and there are details about it that are not yet revealed in the Bible.
The reason Jesus has unprecedented clarity on this doctrine is because he knows the Bible, he has direct revelation from the Father, and oh, he's been there!
At this time of the year it behooves us to remember that Christ's victory over death swung open the door for a reality of eternal life that defies comprehension and imagination. And for those who believe in Jesus our funeral on Earth marks an event as happy as a wedding in Heaven.
Lightning storms over Africa: The new technique would allow researchers to trigger rain and lightning storms on command by firing lasers into clouds
DailyMail
The researchers at the University of Central Florida's College of Optics & Photonics and the University of Arizona developed a new technique to aim a high-energy laser beam into clouds to make it rain or trigger lightning.
They found the key was to surround the beam with a second beam to act as an energy reservoir, sustaining the central beam to greater distances than previously possible.
The secondary 'dress' beam refuels and helps prevent the dissipation of the high-intensity primary beam, which on its own would break down quickly.
A report on the project, 'Externally refueled optical filaments,' was recently published in Nature Photonics.
Water condensation and lightning activity in clouds are linked to large amounts of static charged particles.
Stimulating those particles with the right kind of laser holds the key to possibly one day summoning a shower when and where it is needed.
Lasers can already travel great distances but "when a laser beam becomes intense enough, it behaves differently than usual – it collapses inward on itself,' said Matthew Mills, a graduate student in the Center for Research and Education in Optics and Lasers (CREOL).
'The collapse becomes so intense that electrons in the air's oxygen and nitrogen are ripped off creating plasma – basically a soup of electrons.'
At that point, the plasma immediately tries to spread the beam back out, causing a struggle between the spreading and collapsing of an ultra-short laser pulse.
This struggle is called filamentation, and creates a filament or 'light string' that only propagates for a while until the properties of air make the beam disperse.
'Because a filament creates excited electrons in its wake as it moves, it artificially seeds the conditions necessary for rain and lightning to occur,' Mills said.
Other researchers have caused 'electrical events' in clouds, but not lightning strikes.
The team is now developing a way to get close enough to direct the beam into the cloud without being blasted to smithereens by lightning.
'What would be nice is to have a sneaky way which allows us to produce an arbitrary long 'filament extension cable,' the researchers say.
The technique could one day be used to create rainstorms and even lighting on command, the researchers hope. The technique uses a 'double laser' to stimulate particles within a cloud.
'It turns out that if you wrap a large, low intensity, doughnut-like 'dress' beam around the filament and slowly move it inward, you can provide this arbitrary extension,' Mills said.
'Since we have control over the length of a filament with our method, one could seed the conditions needed for a rainstorm from afar.
'Ultimately, you could artificially control the rain and lightning over a large expanse with such ideas.'
So far, Mills and fellow graduate student Ali Miri have been able to extend the pulse from 10 inches to about 7 feet. And they're working to extend the filament even farther.
'This work could ultimately lead to ultra-long optically induced filaments or plasma channels that are otherwise impossible to establish under normal conditions,' said professor Demetrios Christodoulides, who is working with the graduate students on the project.
'In principle such dressed filaments could propagate for more than 50 meters or so, thus enabling a number of applications.
'This family of optical filaments may one day be used to selectively guide microwave signals along very long plasma channels, perhaps for hundreds of meters.'
Other possible uses of this technique could be used in long-distance sensors and spectrometers to identify chemical makeup.