EXTREME Killer Tornado Outbreak In The Midwest- Catastrophic/ 5 Dead in Illinois (VIDEOS)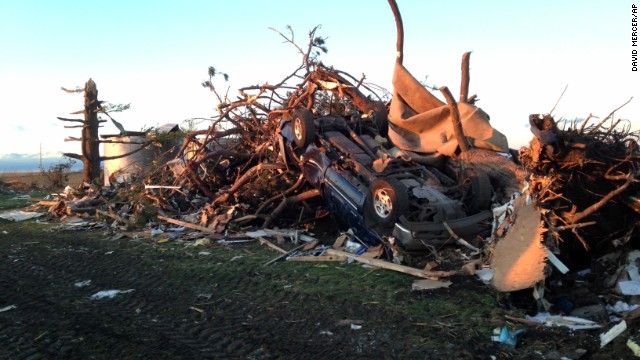 An overturned car rests in a pile of rubble about a mile northeast of Washington, Illinois, on November 17. Washington is in central Illinois, east of Peoria.
Deadly twisters ravaged parts of Missouri, Kentucky, Wisconsin, Illinois and Indiana. Please offer a prayer for all involved.
Scroll down for videos

-W.E

.
CNN
Michelle Crumrine was out of town when a tornado tore through her neighborhood.
She returned to Washington, Illinois, to find pieces of her life strewn about where her house once stood.
"A lot of people have a pile of rubble still," she said, "and I don't have anything. ... It's gone. I don't know where it went."
Nearby, rescuers with flashlights trudged through the neighborhood in the dark of night, searching for signs of life in the wreckage.
As a severe weather system slammed the Midwest on Sunday, spawning dozens of tornadoes, flash floods and hail, this town of 10,000 people was among the hardest hit. A neighborhood was flattened, at least one person died and dozens in the area were injured.
Across the state, officials said five people were killed in storms.
In two communities, storms destroyed at least 70 homes, according to Jonathon Monken, director of the Illinois Emergency Management Agency. Rescuers were trying to reach people trapped in their basements, he said. One hospital in Peoria was treating 37 patients with injuries.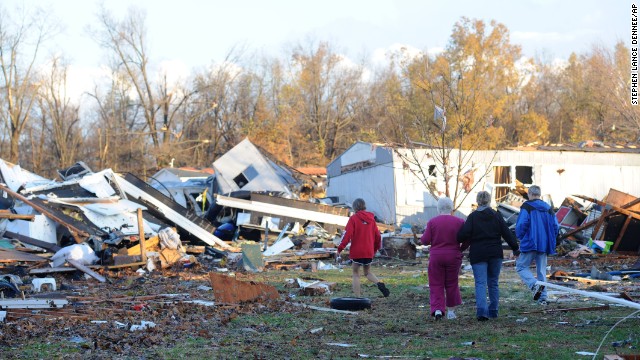 An elderly woman is escorted through tornado debris in Brookport, Illinois, on November 17.
The outbreak also forced fans to evacuate the stands for nearly two hours during an NFL game in Chicago.
"It was complete destruction," said Anthony Khoury, who lives in Washington. "There are people in the streets crying."
As a tornado neared his home, Khoury prayed and recorded a video of the dark twister churning toward him.
"The tornado happened in my backyard, and you can hear people screaming," he told CNN's iReport. "We were freaking out."
More here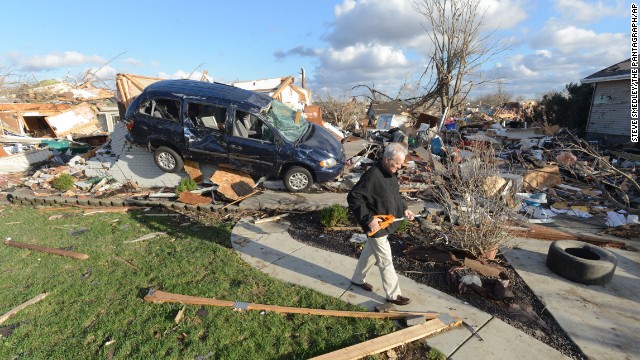 Richard Miller salvages items from his brother's home in Washington, Illinois, on November 17.
Jason A
A powerful, fast-moving storm swirling across the Great Lakes region triggered morning tornado warnings in parts of southern Wisconsin and central Illinois on Sunday, part of a system expected to bring unusually severe November weather to much of the eastern US from Sunday afternoon through early Monday morning