Will ISIS Be Operating Human Slaughter Houses in Iraq as They are in Syria? (WARNING: Graphic)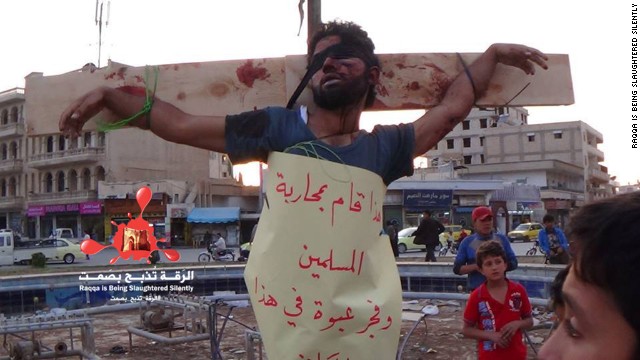 Auschwitz,Hailfingen and Vaihingen have nothing on these latest demonic death camps. It is merely Satan's Act II.
I am not going to put this vileness on my blog, not because it isn't important, but because I just don't have the stomach for it. Here is the link if you want to check it out.
However horrific, it needs to be known/shown and I will do what ever I can to bring attention to what is going on.
There are no words for this type of savagery.
They can kill the body, but they can't kill the soul, and surely theirs, will be damned for all eternity.
The Lord Soon Come.
-W.E.
"And they overcame him by the blood of the Lamb, and by the word of their testimony; and they loved not their lives unto the death." - Revelation 12:11
BNI
ISIS (Islamic State of Iraq & Syria) terrorists operate several slaughterhouses in Syria in which bodies of civilians, Christians, and even Muslims who disagree with the Islamofascist way of life, are beheaded, dismembered and disemboweled, halal style.
Lifeless bodies hang upside down as if they were slaughtered sheep.

T

he bodies are decapitated from the root of their necks, their chest cavities are opened and they disemboweled and hung upside down. The barbarism exhibited by these ISIS Muslim savages is reminiscent of the violence perpetuated by the Ottoman Turks.