ENOUGH! Media Celebs Blasphemy Christ to Elect Hillary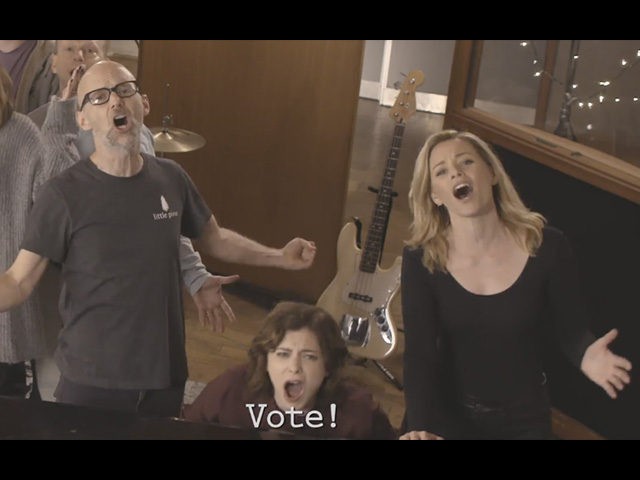 Here is who to Boycott for starters: Rachel Bloom, Elizabeth Banks, Mayim Bialik, Jane Lynch, Adam Scott and Jesse Tyler Ferguson and musicians Moby and Patti LuPone star in a pro-Clinton music video released by liberal comedy website Funny or Die Friday- Breitbart
Muslims have done one thing right. They have shown the world that it is not okay to blasphemy their religious leader Muhammad.
T

hey have done it by making good on cutting the heads off of people who do of course

and
w

e don't agree even an iota with this.
But I get where they are coming from

even

as I comple

tely

disagree with their doctrines.
Jesus Christ is the Son of God. He is the 2nd person of the Holy Trinity and revered by billions across the world.
Yet somehow America continues to use His name as a swear word and a blasphemy without batting an eye. Hollywood does it all of the time. Television does it all of the time. Christians, when are we going to say enough is enough?
God is jealous of His name:
Exodus 20:7 - Thou shalt

not take the name of the LORD thy God in vain

; for the LORD will not hold him guiltless that taketh his name in vain.
Matthew 6:9 - After this manner therefore pray ye: Our Father which art in heaven,

Hallowed be thy name.



Philippians 2:10-11 - That at

the name of Jesus

every knee should bow, of [things] in heaven, and [things] in earth, and [things] under the earth;

Psalms 61:8 - So will I sing praise

unto thy name for ever

, that I may daily perform my vows.

Jeremiah 16:21 - Therefore, behold, I will this once cause them to know, I will cause them to know mine hand and my might; and they shall know that

my name [is] The LORD

.
Proverbs 18:10

The name of the LORD is a fortified tower

; the righteous run to it and are safe.
2 Thessalonians 1:12 We pray this so that

the name of our Lord Jesus may be glorified in you

, and you in him, according to the grace of our God and the Lord Jesus Christ.
Micah 4:5 All the nations may walk in the name

of their gods

, but

we will walk in the name of the LORD our God for ever and ever.
And the list could go on and on.
And now this:
Celebs Curse Up a Storm in Pro-Hillary Music Video (Content Warning)
And it wasn't just cursing and calling Donald Trump an "STD", a "garbage fire"

,

"human

syphilis

"

or a

"septic tank

"

it is blaspheming the name of the holy Son of God.
It is the anti-christ spirit glorified for all to see even as they use extreme vulgarity and blasphemy to condemn Trump for using vulgarity. Makes perfect

hypocritical Liberal sense.
Maybe Hillary should put out another T

V

ad about her concerns o

ver what

our children are watching and seeing in

media

using the blasphemous vulgar

i

ty in this vid

eo as exhibit A

.
Yeah, let's not hold our collective breath that

even

a word will come from the Clinton camp even in feigned ou

trage on what every American should be outraged over.



Here is the Breitbart link

It is so vial, I refuse to put it on this blog.

I am sure this is one of the reasons many Christians don't subscribe to cable TV or go to the movies; the vileness is palpable

, their shame unimaginable.

Imagine them blaspheming Muhammad this way?
Christians, when will we open our mouths? When will we say "say what you want about us, but it is not acceptable to blasphemy the name of our God"?