Limbaugh: Most leaks coming from White House were from Bannon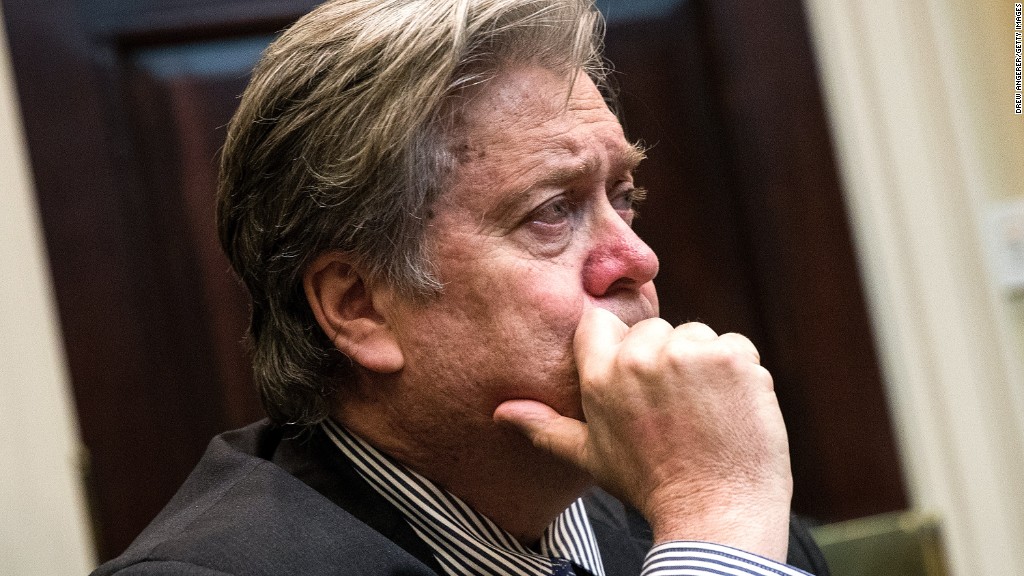 image: money.cnn.com
Conservative radio host Rush Limbaugh said Thursday that he believes Stephen Bannon was responsible for the majority of the first-year leaks coming out of the Trump administration.
"The thing that I think everybody believes and that everybody knows is that most of the leaking that was coming out of the Trump White House was
Steve Bannon
," Limbaugh said.
His comments come amid an intensifying feud between Trump and Bannon, his former chief strategist, after excerpts were published from a new book about the early days of the Trump White House that quoted Bannon harshly criticizing the president and his family.
The Trump administration has struggled with leaks since he took office and has previously
accused
Bannon of being responsible.
Limbaugh said on his first
broadcast
of the new year that he had "never heard" of Bannon before the Breitbart News chief joined the Trump campaign, and described him as "all over the place" with conflicting comments on the Trump administration.
"Bannon is all over the place," Limbaugh said. "You go back to his '60 Minutes' interview where he was praising Trump to the hilt and he was saying that the Russian investigation was bogus and there was nothing to it. And now in this book he's quoted as saying that Trump and [Donald] Trump Jr. were committing treason by dealing with the Russians. I never understood half of the president's staffing. I never understood how he knew these people and ended up choosing them."
Limbaugh added he thought Trump was pressured to tap Bannon for chief strategist by donations from the pro-Trump Mercer family, who own a stake in Breitbart.
"The Mercers gave Trump $5 million," Limbaugh said. "The Mercers wanted Bannon inside Trump. Trump said, 'OK, fine, make him strategist.' I don't know if Trump ever even met Bannon before this campaign began."
In "Fire and Fury: Inside the Trump White House," the forthcoming book by journalist Michael Wolff, Bannon is quoted as saying the 2016 meeting between Trump Jr. and a group of Russians was "treasonous" and "unpatriotic," among other anecdotes that have enraged the White House.
After making a scathing statement about Bannon on Wednesday, in which he accused him of having "lost his mind," Trump sent a cease-and-desist letter to Bannon through his lawyers, threatening legal action. He also threatened Wolff and his publisher, demanding that "Fire and Fury" not reach shelves.